Applications have become an indispensable part of our life. They make daily tasks easier, connect people, and help solve various problems. Software engineers who create, test, update, and launch mobile or web applications are app developers. They create digital products using various programming languages, such as JavaScript, Python, C/C++, etc. App developers may have good knowledge in several spheres but focus on one area, for example, creating applications on iOS or Android. Launching an app is only half of the project. Developers are also in charge of releasing regular updates to the users and fixing bugs in the system. This profession is one of the most sought-after in the labor market. Finding a job as an app developer requires time, skills, and effort, but specialists don't struggle to find a good workplace.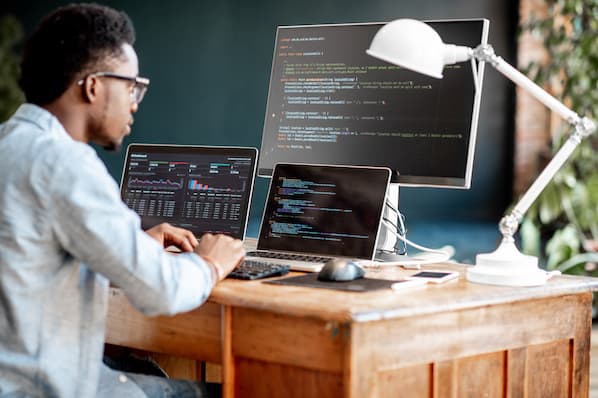 The list of their responsibilities is quite long. App developers have to understand and estimate clients' needs. Sometimes people come up with particular ideas that are either ineffective or require a lot of technical work. App developers have to evaluate the inquiry and offer a viable solution. They also design prototypes of the app and show them to the client. The central part of a developer's job is coding. The programming part is the hardest one. However, if you are interested in technologies and math, this path is for you. Although many applications are similar in the core, they differ on many levels. Good specialists are always in search of original and highly-performing solutions. They test applications before launching them and troubleshoot errors that occur or may occur in the future. Upgrading and adding new features are also a part of app developer's routine. Furthermore, these specialists create handbooks and documentation accompanying code development.
Specialists have to possess various hard skills. Although app developers belong to those professions that don't initially require an academic degree, you will need to study a lot to become a good specialist. The list of in-demand knowledge and hard skills includes agile methodologies, understanding of website design and development, good command of Java, PHP, C++, JavaScript, HTML 5, command-line utilities, etc. They have to be aware of how UI/UX Graphical user interface functions. Apart from programming languages, solid knowledge of SQL is also a must. If you want to proceed in this career and gain a formal education, we could recommend the following degree programs: math, cybersecurity, data science, software engineering, information technology, and software development. Later you could choose a more specific area and plunge into it. Technologies are developing at light speed, so specialists will always have room for improvement.
Soft skills matter too. Application developers need to communicate with clients who don't always fully understand their own ultimate goal. To interpret their needs and turn them into reality, specialists should be able to translate information from technical into non-technical language. The next crucial point is problem-solving. Problems appear all the time when you code. Often their causes are unclear. Yet, you need to deal with the consequences. Troubleshooting is essential in app development. To succeed in the profession, you need to be attentive to details and master your analytical skills.
App developers are one of the most in-demand specialists. They create valuable digital products and solve complicated business problems. To become one, you need to study programming languages and deal with various soft. This process requires time and effort, but it's worth it.